Cooking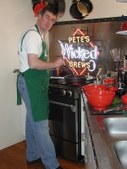 After many years of eating out most of the time, I have got quite into cooking recently - a major contributing factor being Paula living with me, since it's a lot more fun to cook for two than one! We like to cook a pretty wide range of things, especially Asian - Thai, Indian, Chinese, Japanese. Check our cooking photo album!
The book I would recommend most highly (to anyone, but especially someone who doesn't cook that much or wants to get into cooking more exotic things) is Food and Wine magazine's quick from scratch one-dish meals cookbook. The recipes are easy to make and they tell you precisely what to do in simple terms, which is especially good if you haven't done much cooking (Jamie Oliver's books - see below - are great, but they tend to leave rather more to your discretion, which is good once you have a bit of confidence but can be a bit daunting if you haven't cooked much).
Some of my favorite recipes in the book that I've made include the following:
Tortilla soup - lovely thick spicy tomato-based soup with chicken and avocado which you pour over fried tortilla strips and cheese
Turkey and black bean soup - flavored with chili powder, cocoa, oregano and Tabasco, yum!!
Chicken and smoked sausage gumbo - great tasting and easier than a lot of other gumbo recipes I've seen
Lamb biryani - great Indian dish, another very easy recipe (once you've bought the various spices you need)
Thai one pot - pork, bell peppers and shiitake mushrooms cooked in a single pan and flavored with soy sauce, lime juice and Cayenne pepper
Pork paprikash - Hungarian dish featuring cubes of pork tenderloin browned and stewed in broth flavored with paprika, onions and peppers
Szechuan shrimp - spicy Chinese dish
Scallop-topped potato and celery root (celeriac) puree with lemon brown-butter sauce - this is one of Paula's favorites, less spicy than most of our other favorites but great flavors
Chicken chilaquiles - a really unusual mexican dish which features tortilla chips softened by heating them in a spicy chile sauce, topped with feta, onion, sour cream, cilantro and chicken - I really like this one
Shrimp po' boys - New Orleans sandwich which is a favorite of Paula's daughter Nikki
Quite an impressive list of exotic but easy to make dishes, I think!
My other favorite cookery book is by Jamie Oliver, "The Naked Chef" (it's his cooking that is "naked", not him!). He's a really popular TV chef in the UK and apparently his show is now on the food channel in the US, though the title has been changed from "The Naked Chef" to "Oliver's Twist" (I wonder about Americans sometime)!! My brother John got me into Jamie Oliver when he bought me the DVD from his first series and one of his books last Christmas. There's a pretty wide range of Jamie Oliver stuff on Amazon:
The DVD I have is the UK version of "Oliver's Twist" and the book I have is the second one - Return of the Naked Chef in the UK, or The Naked Chef Takes Off in the US. Some of the recipes I've tried include the following:
Monkfish wrapped in banana leaves with ginger, coriander, chilli and coconut milk - this is a fantastic dish I've done quite a few times, great for entertaining! Actually I've done it with halibut and swordfish.
"Peter's lamb curry" - named after Jamie's friend Peter rather than me :) but nevertheless obviously an appropriate recipe for me. This is completely from scratch - you grind up seeds in a mortar and pestle for the spices, no curry powder here!
Risottos - I've made a couple of these and they've both been great - one is roasted sweet garlic, thyme and marscapone risotto with toasted almonds and breadcrumbs, the other white risotto with lemon thyme, sliced prosciutto, pecorino and crumbled goat's cheese
Fragrant Thai broth - another great one for entertaining, tastes great and interesting presentation!
There are lots more interesting recipes I'll get to in due course - I definitely want to try his home made pasta and breads! A few pictures of our adventures with Jamie's recipes below - more in our cooking album.
One final book to recommend for the moment, which is "Asian Soups" by Suzie Smith. The soups I've tried from this book have been reasonably easy, the only tricky part is tracking down all the ingredients. We have a really good local Asian market in Downtown Denver, which is where we get all Asian ingredients from, the Pacific Mercantile Company.
Soups I've tried from this book include:
Thai chicken coconut soup (Tom Ka Gai) - I love this, one of my favorite meals!
Chinese hot and sour soup - this is a little different from your typical hot and sour soup (not as thick) but very good!
Marinated lime and chili fish soup - this is really interesting, you marinade the fish beforehand then put it in the bowl with various other ingredients, add hot stock and it cooks in the bowl in a few minutes!
Thai hot and sour chicken soup (Tom Yum) - seriously spicy this one!
We also like to make miso soup which is very easy - just need some good miso paste and we add some combination of mushrooms, tofu and seaweed (nori).